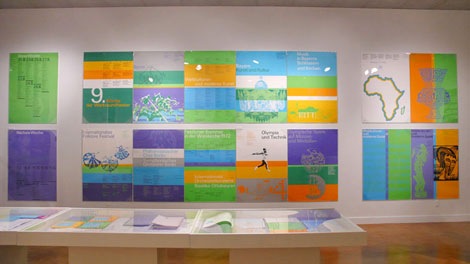 An exhibition of graphic design by the office of Otl Aicher for the 1972 Munich Olympics. Curated by Joe Miller at the San José State University.
Yet another exhibit I was able to attend in these few last months of the year. The exhibit was originally going to be from August 26 to September 26, but it got extended until October 17, 2008.
If you live in the bay area and you are a Graphic Designer or have interest for it, you must visit this. Most of this exhibit is featured on books specially in the book by Markus Rathgeb, but I must admit that seeing this up close and in it's original format is so much different and so much breath taking than seeing it all small on a book.
You will be able to see ephemera from the 1972 Olympics from tickets to brochures and every insignificant smallest thing you never thought of. So get your self up there before you can't make it. It's not open on the weekends but on tuesdays its open from 6-7:30pm for those who work during the day.
Visit the official site at: www.joemillersco.com/spiele.html
Image via: Grain Edit